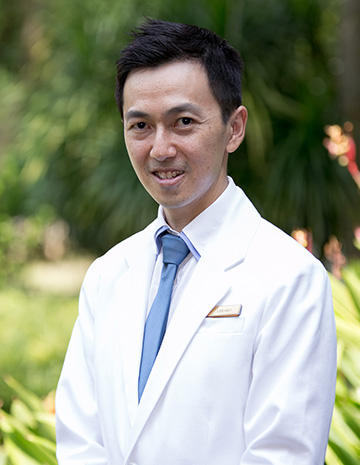 Gerard Wong
Senior Dietitian
Allied Health
Profile
Gerard is a Senior Dietitian at Parkway Cancer Centre. He addresses the needs of the cancer patients through their cancer journey. Other than seeing patients, Gerard also conducts nutrition workshops both locally and overseas as well as organise supermarket tours helping to dispel some of the common myths surrounding cancer and nutrition.
Gerard graduated from Flinders University, South Australia with a Bachelor in Nutrition and Dietetics. He further obtained a certificate in renal nutrition from the Northern Adelaide Renal and Transplant Service. He has also completed a post graduate certification in sports nutrition from Sports Dietitian Australia, Canberra, Australia.
Prior joining Parkway Cancer Centre, Gerard started as a dietitian at one of Parkways' clinic counselling patients with chronic diseases. However, his love for sports also saw him working alongside with some of Singapore's top athletes in preparation for the Asian and Commonwealth Games as well as Australian state athletes who would later go on to represent their Nation.
In Australia, Gerard played a key role in helping the children with type 1 diabetes and their families to manage the condition. He also consulted patients with type 2 and gestational diabetes. Part of his work also revolved around bridging the languages and culture gaps of Indigenous Australians with kidney failure, helping them understand the dietary strategies needed to get the best outcome while on dialysis.
Gerard is currently an Accredited Dietitian with the Singapore Nutrition and Dietetics Association (SNDA) as well as a member with the Dietitians Association of Australia (DAA).