What treatment is offered?
Depending on the stage of the lung cancer, the aims of treatment may be for cure, control of disease for prolongation of survival or management of symptoms and prevention of complications to improve quality of life. The following treatment modalities may be used singly or in combination.
Localised Non-Small Cell Lung Cancer
For localised lung cancers, treatment consists of surgery with or without chemotherapy, radiation alone or combined chemotherapy and radiation.
Surgery
Surgery for lung cancer involves the removal of tissues that contain the tumour and nearby lymph nodes.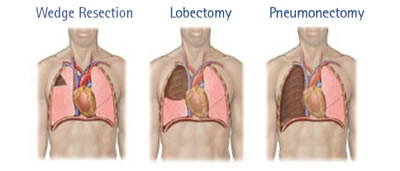 Radiation Therapy
Radiation therapy (also called radiotherapy) uses high energy rays to kill cancer cells. It affects cells only in the treated area.
Chemotherapy
Chemotherapy uses anticancer drugs to shrink/kill cancer cells. This is usually given as an infusion. The drugs enter the bloodstream and can affect cancer cells all over the body.
Advanced Non-small cell lung cancer
When non-small cell lung cancer has spread to distant organs, the aim of the treatment is to control the cancer, improve symptoms and quality of life and prolong survival. The possible treatment modalities include chemotherapy and immunotherapy.
Targeted Therapy
Targeted therapy uses drugs to block the growth and spread of cancer cells. For example, some lung cancer cells have too much EGFR which is a protein on the surface of cells which helps the cells grow and divide faster. Drugs called EGFR inhibitors can block the signal from EGFR and stop the lung cancer cells from growing. The drugs enter the bloodstream and can affect cancer cells all over the body. Some patients with non-small cell lung cancers with EGFR mutation positive that has spread will receive targeted therapy.
Immunotherapy
Immunotherapy refers to a type of cancer treatment designed to enhance one's body's immune system to fight cancer cells. Cancer cells have the ability to 'camouflage' themselves in such a way that our body's immune system is unable to detect these 'rogue cells' to destroy them. Immunotherapy helps by boosting the immune system so that it can detect and destroy these "rouge" cancerous cells more easily. As a result, in certain cancers, it had been shown to be able to control and keep things at bay for a longer period of time, compared to other treatments.
Screening
Screening refers to looking for cancer before a person has any symptoms. The aim is to detect cancers early so that it can be treated at an early stage. Screening tests are tests that may help doctors find and treat cancer early. Several methods of detecting lung cancer have been studied as possible screening tests such as low dose CT lung scans. However, this is only found to be effective in high risk people.
Hence it is important to talk with your doctor about your own risk factors and the possible benefits and harms of being screened for lung cancer. Like many other medical decisions, the decision to be screened is a personal one. Your decision may be easier after learning the pros and cons of screening.