Up Close & Personal with PCC Cancer Counsellor
---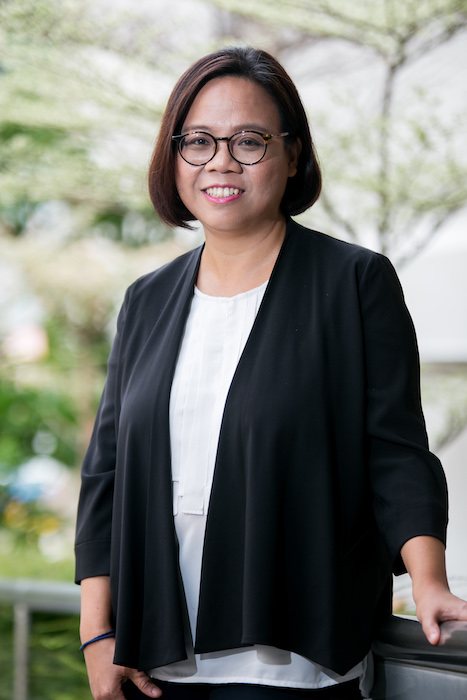 Building strength from within
Parkway Cancer Centre counsellor Chia Hui Erl tries to help patients leverage on their own internal resources to cope with the challenges of cancer.
As a counsellor with Parkway Cancer Centre (PCC), Chia Hui Erl has been inspired many a time by the resilience she sees in patients who are confronted with multiple health challenges.
She will never forget one patient who suffered some of the worst side effects from her medication. With support from the medical team and family members, the patient slowly progressed from depending on others to being able to take care of her own needs, and finally even returning to work.
"Like many other patients, she had the innate capability to heal and come out with coping strategies that were helpful," she recalls. "And witnessing this process in patients is what touches me most."
This has helped her not only to understand herself and life better, but also guided her on how to live.
"The experience of pain and suffering in my own life also expands my empathy as I walk with patients on their journey," she adds.
This is something she brings to the cancer patients as she gives them psychosocial and emotional counselling to help them cope with anxiety, depression and fear, as they go through their diagnosis, treatment process and care plans. Her role also includes conducting talks and training as well as assisting with the facilitation of support groups for cancer patients.
Hui Erl started counselling in 2014 after working for 20 years as a buyer. An interest in understanding human behaviour led her to do a career switch, she pursued a degree in psychology before going on to specialise in professional counselling.
She joined PCC in August 2019 after working as a counsellor for several years. While she found it meaningful to counsel clients on a variety of issues which include emotional, mental health, marital and family conflicts, she developed a keen interest in loss and bereavement work, which led her to PCC.
"I am drawn to PCC's mission to provide holistic care to patients," she says. "This not only includes taking care of patients physically, but tending to their psychosocial health as well."
Many cancer patients, she notes, struggle with the uncertainty of treatment, life after cancer, fears of a relapse, and the issue of mortality. One of her tasks, she says, is to hear them air their concerns and help them to find their grounding.
"Patients need their concerns to be heard, and being able to voice their concerns is, in itself, a form of relief," she explains.
Where needed, she also teaches them emotion regulation strategies to address their anxiety, finding new perspectives of their situation, and exploring constructive ways of coping.
"I see myself as someone who journeys with them, lending them support when needed," she adds. "It is moving for me to witness patients leverage on their own internal resources to work through the challenges that come with treatment."
Knowing that not all patients will recover from cancer, she tries to do all she can for everyone she meets. "I treasure every encounter, to provide my full presence and support according to their needs," she says.
Hui Erl believes that before she could take care of others, she needs to take care of herself. She tries to balance her dedication to work with self-care. She makes sure to spend time with her family and friends, and to carve out "me time" for her hobbies, such as yoga, meditation, watching movies and listening to music.
She does a morning walk and meditation every day, and when she can, looks for opportunities to soak in nature during lunch at the Botanic Gardens near her office at Gleneagles Hospital. "This has been helpful as it gives me a good recharge to continue work for the rest of the day," she says.
Her advice for cancer patients? "Feeling anxious about the unknown and feeling down is normal and is part of the process," she says. "Trust in this process and yourself. While the unknown is disheartening and overwhelming at times, it also offers possibilities."
She adds: "While the situation can be tough at times, you are not alone in this journey. The entire medical team is here to attend to your needs while we go through this challenging period together."