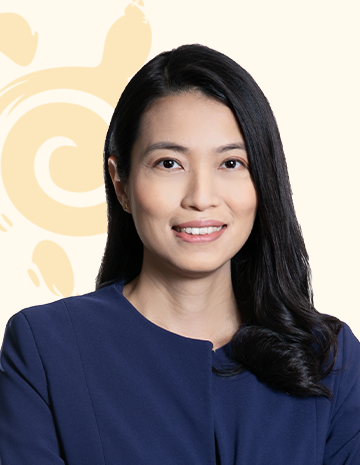 Dr Dawn Mya Hae Tha
Senior Consultant
| | |
| --- | --- |
| Specialty | Haematology |
| Phone | +65 6684 5522 |
| Fax | +65 6694 0706 |
| Email | mya_dawn@pcc.sg |
| Qualifications | MBBS (Yangon), MRCP (United Kingdom), FRCPath (United Kingdom) |
| Languages Spoken | Burmese, English, Mandarin |
Make An Appointment
Clinic Address(es)
Mount Elizabeth Novena Specialist Centre
38 Irrawaddy Road #05-43, 05-50 to 55
Singapore 329563
Profile
Dr Dawn Mya Hae Tha is a Senior Consultant, Haematologist at Parkway Cancer Centre. Her area of expertise is in Haematology such as acute leukaemia, lymphoma, multiple myeloma and other general blood diseases such as the disorders of thrombosis and haemostasis, obstetric haematology, anaemia, thrombocytopaenia and other chronic myeloid and lymphoid disorders.
Dr Dawn Mya Hae Tha completed her Basic Specialist Training in Medicine and Advanced Specialist Training in Haematology at Singapore General Hospital (SGH). She was accredited as a Specialist for Haematology in 2013. She is also a Fellow of the Royal College of Pathologists (Haematology), United Kingdom, since 2014. She received the Ministry of Health, Health Manpower Development Programme award in 2014 and did her subspecialty training in the use of Flow Cytometry for diagnosis and minimal residual disease assessment of haematological cancers at the Department of Haematology and Department of Flow Cytometry Services, University of Salamanca, Spain.
Dr Dawn Mya Hae Tha was previously a Consultant in the Department of Haematology, SGH, where she is now a Visiting Consultant overseeing the Flow Cytometry Services for haematological cancers. She later moved into a private practice as a Consultant Haematologist in 2017 where she practised Clinical Haematology as well as headed clinical trials for Lymphoma and Myeloproliferative Disorders as a Principal Investigator.
Dr Dawn Mya Hae Tha was an Adjunct Assistant Professor at the Duke-NUS Graduate Medical School and Senior Clinical Lecturer at Yong Loo Lin School of Medicine. She obtained the Singhealth EPIC award in 2013 for leading the team which successfully implemented a new blood transfusion workflow to improve the clinical management of patients with blood disorders. She received the Singhealth Service Quality Partner Award in 2011, Singhealth Quality Service Award (Gold) in 2014 and Singhealth Quality Service Award (Star) 2015.
She believes that healing patients with blood disorders is a holistic skill that goes beyond science.