Cancer is a global epidemic of the modern world. Every year, millions of people are diagnosed with cancer, and millions more – their families, friends and loved ones – have their lives irrevocably altered. The silver lining of this reality is that constant advancements in medicines and medical technology are slowly but surely tipping the battle against cancer in our favour.
There is hope. And Parkway Cancer Centre is dedicated to sharing that hope to anyone and everyone affected by cancer.
We are home to a comprehensive suite of cancer treatments delivered by an experienced, multidisciplinary team of medical doctors, nurses, counsellors and other paramedical professionals. Every day, and for every patient, our team works hard to deliver holistic cancer care in a safe and soothing environment. They are aided by modern technologies and proven innovative therapies to achieve optimal clinical outcomes for our patients.
And since ensuring our patients' wellbeing also means creating a comfortable experience for them each time, our guest relations officers and translators are always on-hand to greet and attend to them.
The battle against cancer is not an easy one, but through it all, we are there to support and guide our patients. We are here to give them hope.
OUR MISSION
To provide a comprehensive and integrated premier cancer service that is patient-focused, with utmost care, comfort and compassion.
OUR LOGO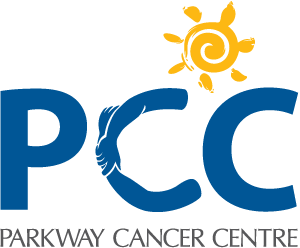 Designed with patients in mind, the interlocking arms signifies the care and support for patients and loved ones and the Sun element conveys warmth and hope.