Parkway Cancer Centre - Survivors Connect 2023
---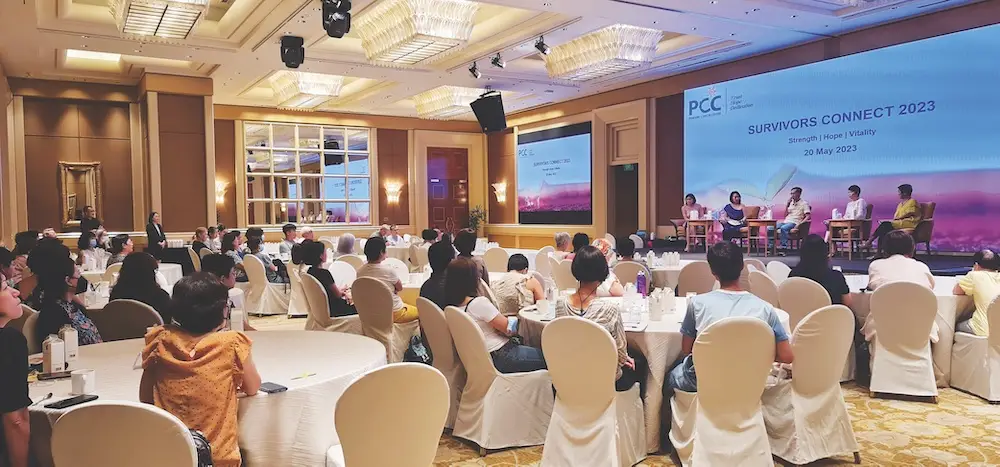 At Survivors Connect 2023, Parkway Cancer Centre (PCC) patients, survivors and caregivers gathered to share, connect and take part in engaging activities.
Last May, some 70 PCC patients, survivors and caregivers gathered for an afternoon of exciting events at Survivors Connect 2023.
The annual event organised by PCC aims to foster values of Strength, Hope and Vitality by creating a space for participants to connect, share inspiring stories, and take part in engaging activities.
Dr Khoo Kei Siong, Deputy Medical Director and Senior Consultant, Medical Oncology at PCC kicked off the event with a warm welcome, where he addressed participants that included some of PCC's longtime patients, as well as newer patients.
"Many of us in the room share a certain journey together — a journey of fighting a disease that we now know well," Dr Khoo shared. "For some of us, we have overcome all that and are looking forward to the next phase of our lives.
"Survivorship is something very important, as we are preparing ourselves for our next journey together."
Sharing journeys
Dr Khoo's opening address was followed by a sharing session with three cancer survivors from the PCC community, and PCC's Dr Wong Chiung Ing, Senior Consultant, Medical Oncology.
KF, 62, began the session by sharing his experiences after being diagnosed with Stage 4 lung cancer in 2012. He explained how remaining calm and accepting the diagnosis played a big role in his cancer journey.
"I did what I could to keep going," KF explained. "I didn't want to wallow in self-pity; I didn't want to bog my mind with the disease."
KF has been tumour-free since 2015 — one year after he started taking targeted drugs in May 2014. He also shared how he continued to keep up an active life despite his disease, going to the lengths of drastically changing his diet together with his whole family in an effort to live a healthy lifestyle.
"For me, it's a choice," KF said. "I thank God my wife and my children supported me by eating the same food together with me, so that we were able to continue to eat as a family and connect over meals."
Another cancer survivor, Gale, also shared how she was diagnosed with early stage bilateral breast cancer at the age of 40, after discovering a lump on her breast in 2019.
"It was a bit of a shock, because I have no family history of breast cancer, I was young, and I also breastfed all of my kids," said the mother of three.
Gale recalled how she broke the news to her family and h ow she continued to give her family confidence that she was going to make it through her disease. With three young children depending on her, she credited her family, friends and 'super [domestic] helper' for giving her the support she needed on her cancer journey.
"When you're sick and you're going through treatment, you need to have some sort of support system around you," Gale said. "But I also believe that first, I have to have the strength myself, and then tap on the additional support system around me."
Like Gale, Nancy, 68, also received a shock when she discovered she had Stage 4 colon, lung and liver cancer in 2014. "It was a big shock, because I was very healthy and went to the gym three, four times a week," Nancy shared. "I would just cry, I didn't know what to do."
Fighting back tears, she also shared her grief over her husband's death in 2020. Despite her struggles, Nancy fought on and continued to live everyday as best as she could. She strived to remain optimistic and explained that she was thankful for her cancer, as it is an opportunity to cherish every moment of her life.
"You have to live with it," Nancy explained. "You don't know when it may come back, but don't be disappointed if it comes back. It's just life — there are ups and downs. So just accept whatever happens and continue to live your life."
Breakout activities
Following the survivors' sharing session, participants got to mingle and connect over food and drink during a hearty coffee break session. Participants were spotted sharing their individual journeys — from the doctors they were seeing to their experiences receiving treatment — as they caught up with old friends and made new ones.
Participants then split into three breakout groups for concurrent activities covering various topics of interest from active recovery to diet and styling.
One group of participants received a lesson on grooming and deportment etiquette at the Impress at First Sight workshop. Led by the Image Flair Academy of Modern Etiquette, participants learnt the power of first impressions and the usage of colours to help level up their confidence.
Participants got to take part in one-to-one colour analysis consultations, as well as live demonstrations to learn how to apply these skills to their daily lives. From learning to identify their individual skin tone to picking out the right colour palette of clothes that will flatter their body, participants were well-equipped with useful grooming and styling tips to bring out the best version of themselves and unleash their potential for success.
At another breakout session on Everything But Meat , Gerard Wong, a Senior Dietitian at PCC, explored various forms of vegetarian diets, daily protein needs, and differences between animal protein, plant-based protein and cultured meats.
In the session, Gerard explained that a vegan diet comes with some nutrient concerns. He highlighted how the alternative flexitarian diet and traditional forms of plant-based diets offer many health benefits without turning to highly processed plant -based novel protein options which have become more popular in recent years.
He also explained the differences between animal protein, plant-based protein and cultured meats, describing the latter as "the next NEWater" — a growing area to watch amid Singapore's food security dilemma.
At the end of the session, participants got to sample various plant-based proteins. They were exposed to different protein options available, which helps them make more informed diet decisions for their health.
Another group of participants also brought home useful health tips at a breakout session on Active Recovery. Speaking at the session, Derek Lee, Principal Physiotherapist from PhysioX, shared how cancer treatment can affect patients' physical, social, psychological and work abilities.
During the session, Derek explained the role of physiotherapy and how it can help patients manage side effects of treatment and achieve their goals — such as regaining independence, reducing cancer-related fatigue and improving quality of life.
He also demonstrated some physical activities participants can safely consider to help them manage cancer-related fatigue as well as other symptoms and side effects of cancer and its treatments. Participants also learnt how to return to exercise confidently by taking up different types of exercises from walking to resistance training.
At the end of the three breakout sessions, participants got to bring home goodie bags packed with freebies, as well as useful takeaways and new friendships to support their individual journeys.