Find Therapeutic Moments Through Art
---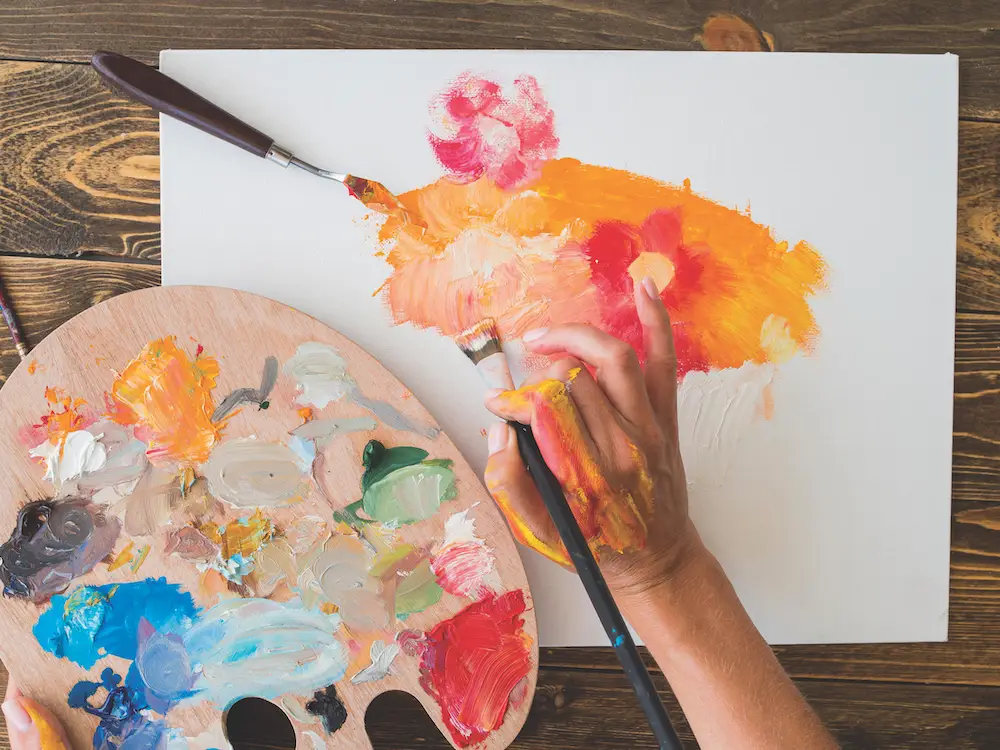 Art can be an alternative means for individuals — including cancer patients — to express their feelings and experiences non-verbally. Principal Counsellor Tan Hui Ping explains.
Conventional talk therapy can be helpful for some individuals, but for others, it may not always be easy to put their feelings into words. For these individuals, art therapy can be an alternative means for them to express their feelings and navigate their experiences non-verbally.
Art therapy is an evidence-based treatment that uses art as a clinical tool to help individuals navigate emotional challenges and facilitate their healing journey1. It is used with individuals as an outlet for self-expression and meaning-making2.
Unlike art classes or independent art projects, art therapy is applied in the presence of a therapist who is trained to use art to help individuals process their feelings and resolve mental health issues within a safe space. The goal of art therapy is not to become great artists, but to explore how the art pieces and art-making process relate to one's experiences.
Using art as a therapy tool
Art therapy provides a safe space for individuals to explore their feelings, and encourages self-awareness about what they are experiencing. Individuals who find it particularly difficult to express themselves in words may find it easier to do this through art. The art pieces created are often a reflection of their unconscious or subconscious minds. These provide rich information for the therapist to analyse the individuals' psychological and emotional selves.
Art therapy does not require artistic experience. It is suitable for all individuals, regardless of age and ability. It commonly includes individuals experiencing3:
Chronic illnesses (e.g. cancer)
Mental health issues (e.g. anxiety, depression, trauma)
Physical illness or disability
Loss and bereavement
Relationship issues
Art therapy has been shown to help such individuals 4:
Express or explore their emotions
Improve their relationships with others
Take their mind off pain or discomfort
Develop self-awareness
Raise self-esteem and confidence
Reduce stress and anxiety
Individuals can participate in art therapy through one-on-one sessions, group therapy, and family or couples counselling. In each session, individuals can apply a variety of art forms, from drawing to painting, sculpting, pottery-making or even scrapbooking.
During these sessions, the art therapist will observe or guide the patients through the art-making process. After the art piece is completed, the therapist and patients will work together to explore how the patients' free-form art expressions relate to what they may be experiencing. The therapist will also help patients process any emotional difficulties that may surface during the session.
Over subsequent sessions, the therapist will observe how patients' art pieces evolve over time and use this information to support the patients' healing journeys. As patients progress in their journeys, the therapist and patients may observe changes such as brighter colours or new subjects in the patients' art pieces5. This can be rewarding for patients as they are able to see their own progress visually through the artwork.
Art as a therapy tool for cancer patients
Art therapy integrates artistic expression into the healing process — a practice that complements cancer patients' treatment journeys.
Cancer and cancer treatment can be seen to take over patients' lives, when diagnosis, test results or cancer treatment side effects can be beyond their control. During these moments where patients feel that they have lost control, it is important to redirect focus on what they can control. And creating art often gives cancer patients a sense of control over their lives as it gives them an opportunity to focus on themselves and their abilities, or reframe their experiences through visual imagery6.
Some studies have shown art therapy to be beneficial for cancer patients. A meta-analysis study conducted in 20207 showed a positive effect on quality of life in cancer patients. In another study8, art therapy was found to help reduce feelings of anxiety, depression and even physical pain in cancer patients. Indeed, art therapy may help with pain relief as it distracts patients and relaxes them.
Other benefits reported by cancer patients include9:
Increased sense of control over one's life
Developed sense of well-being
Decreased focus on pain
Enhanced relaxation
Raised self-awareness and mindfulness
Improved quality of life
Combined with talk therapy, the creative process involved in art therapy offers cancer patients an opportunity to explore life changes they undergo, gain new perspectives and address any fears related to their cancer diagnosis and treatment.
Using art to find therapeutic moments on your own
Individuals do not necessarily have to see a therapist to experience the therapeutic benefits of art. In fact, individuals can find therapeutic moments through art in a non-clinical setting. The process of art-making, on its own, can also be an enjoyable one, providing moments of relaxation to help individuals cope with everyday stress.
Whether it is craftwork, sketching, or making collages, this process of creating art can improve individuals' mental health by encouraging engagement and personal development.
This is commonly referred to as therapeutic art.
It is important to differentiate that while therapeutic art can bring about positive benefits, it is not a replacement for psychotherapy. Unlike art therapy, which is a treatment applied with the presence of a trained therapist in a clinical setting, therapeutic art is a leisure activity created for the purpose of relaxation or personal pleasure, that an individual can do on their own, in their own space.
Regardless, both therapeutic art and art therapy can bring about great benefits to individuals' mental well-being. So, grab some art tools and start finding therapeutic moments through art on your own!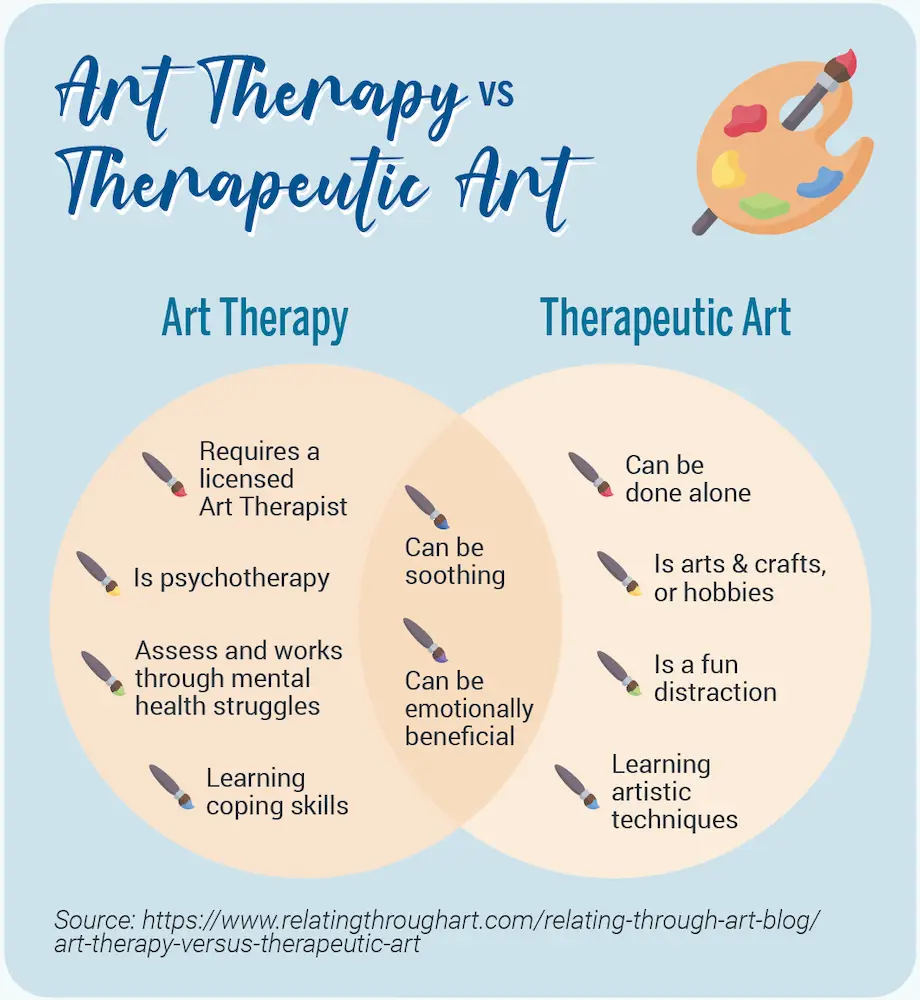 1
https://www.forbes.com/health/mind/art-therapy
2
https://www.rogelcancercenter.org/support/managing-emotions/complementary-therapies/art-therapy
3
https://www.goodtherapy.org/learn-about - therapy/types/art-ther apy
4
https://www.medicalnewstoday.com/articles/art-therapy
5
https://covecarecenter.org/art-therapy-beneficial-clients
6
https://www.verywellhealth.com/art-therapy - for-people-with-cancer-2248957
7
https://www.cancerresearchuk.org/about-cancer/treatment/complementary-alternative-therapies/individual-therapies/art-therapy
8
Lefèvre C, Ledoux M, Filbet M. Art therapy among palliative cancer patients: Aesthetic dimensions and impacts on symptoms. Palliative & Supportive Care. 2015.
9
https://www.canr.msu.edu/news/the_benefits_art_therapy_can_have_on_mental_and_physical_health