Cancer Counsellor Touched by Love
---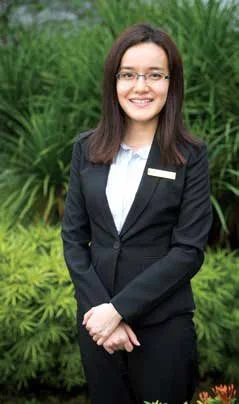 Touched by love
Jaime Yeo, a counsellor at Parkway Cancer Centre, is inspired by the patients she cares for.
Jaime will never forget the 16-year-old who came under her care. Diagnosed with advanced colon cancer, his chances of survival were low.
Yet, she says, he retained his sense of hope. "He had a certain endearing childlikeness. His eyes would brighten up at the sight of a balloon or a toy," she says. Despite his own pain and discomfort, the teenager would thank Jaime and express his appreciation whenever the counsellor visited him at the ward.
"Before he left for his home country, he even told me not to be sad," she recalls.
The teen has since died, but Jaime holds on to the memory of the boy who reminded her that she had indeed made the right decision to become a counsellor.
The soft-spoken 29-year-old nearly missed becoming one. When she considered studying social work at the university, she was advised against it – she was told that it was hard work that was underpaid. So she studied communications instead, and spent four years doing editorial work in various organisations.
One of these was in the healthcare sector, and it was there that Jaime made a discovery.
"I had the opportunity to meet all kinds of people working in the social service and healthcare sectors, and was inspired by the passion I saw in many of them," she says. "I became more aware of the many avenues that one could make a difference in. I also saw the many needs that were on the ground, and I wanted to play a more direct and active role in helping people in need."
So Jaime decided to pursue a masters' degree in counselling. She persevered, encouraged by her family's support and her search for a meaningful career.
After graduating, she joined Parkway Cancer Centre (PCC) in mid-2016. Jaime says she was drawn by its model of patient care. "It was patient-centred and holistic, and there was a personal touch in caring for patients," she explains. This matched her own belief that patients needed to be treated as unique individuals with unique needs, and that they also had social and psychological needs as well as medical and physical ones.
"At PCC, there is a continued focus on creating a caring and personal experience for the patient, and an emphasis on the softer aspects of patient care," she says.
At first, Jaime struggled to learn about cancer and the medical terminology often used in the treatment of cancer patients. She also found herself having to deal with issues of suffering, life and death – which she describes as "heavy and sombre topics" with no easy answers or solutions.
"Journeying with patients as they make sense and meaning out of their suffering can sometimes be rewarding and inspiring as you see them emerge stronger and more hopeful, but at times it can also be dark and emotional," she says.
But the young counsellor drew on her experience as a youth counsellor in a secondary school, and realised that what really mattered was building trust and rapport with patients. "Some patients are reluctant to talk to counsellors because they think it means that something is wrong with them," she says. So she tries to show them that counsellors do not see people as problems to be solved, but "as human beings deserving of love, care and attention".
It is with this approach that Jaime carries out her daily tasks, shuttling between clinics at Gleneagles and Mount Elizabeth hospitals to check in on her patients. With each patient, she takes time to make a connection. "People often cope better with problems when they feel better connected with others," she explains. "Allowing patients to share their experiences and vent their frustrations, and to have someone there to hear them out and support them, is helpful for many."
Jaime also guides patients to reflect on their own thoughts and feelings, so that they can deal with negative thoughts that contribute to their anxiety or depression, or to draw on their faith and religion to find hope and strength to fight the battle against cancer.
And while her days can be tiring and long, Jaime always takes comfort in the knowledge that she can encourage people by walking them through the process of cancer treatment, comforting them, and giving them assurance that they are not alone.
In return, she learns much from the way people deal with cancer. "Each one of my patients has, in some way, touched or inspired me," she says. "I am always inspired by the strength, resource or love for their families that they display even in difficult moments of their treatment journey."
A Christian, Jaime says she relies on her faith to keep going every day. "It can be emotionally draining to talk to patients daily and see what they go through," she says. "I need strength daily which I get from Him. I also need God to remind me to be compassionate towards all my patients."

Written by Kok Bee Eng