Up Close & Personal with Dr Anselm Lee
---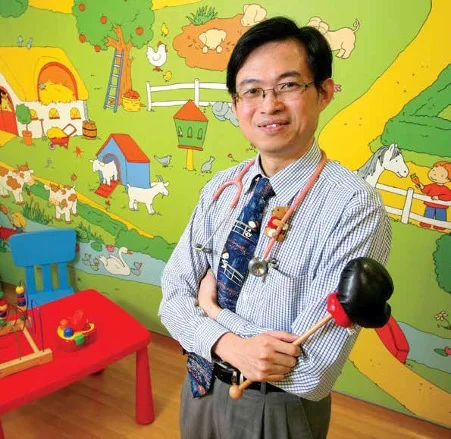 'Because children are the future'
Dr Anselm Lee Chi-Wai, a Senior Consultant at Parkway Cancer Centre, explains why he became a paediatric oncologist.
How did you develop your special interest in paediatric haematology and oncology?
Sometimes the things you want to do choose you. When we were in training, we were exposed to different disciplines and I guess I was instinctively drawn to paediatrics. During my training, my very first posting was to a team looking after children with blood cancers. I found myself getting attached to families in need.
Why are paediatric oncologists so special?
Childhood cancers are completely different diseases compared to adult cancers. Acute leukaemias are a notable example. In children, up to 90 per cent of acute leukaemias are curable. In adults, it is commonly a death sentence unless transplantation can be carried out. This is partly because of cancer biology and partly because of how childhood cancers are handled. Paediatric oncologists are a unique breed of doctors. Every day they celebrate life with the people around them. They have immediate, short-term, and long-term goals. And they don't work alone. At the bedside, they work with the children and their families to cater to the little patients' immediate needs. At the institution level, they work with other paediatric disciplines towards the patients' holistic care. At the national and international arenas, they collaborate with other paediatric oncologists to quest for better treatment of cancers in children.
Losing patients along the way is inevitable. It must be even harder when you deal with children. Do you ever think of leaving?
Paediatric oncology
is one of the saddest disciplines in paediatrics. Very few people want to go into this. Even in Singapore, there are no more than 10 experienced paediatricians working with childhood cancers. I don't think I will leave this discipline because I still feel what I'm doing is worth it. I'm changing people's lives. As you push on, you become more experienced, more capable of helping those in need. The good thing is that paediatric oncologists have been making considerable progress. The achievements in the last 30 years have been remarkable. We have come a long way to salvage children from previously incurable diseases. When I started out in the 1980s, barely half of the patients survived the disease. Today, we are talking of 75 per cent of them in long-term survival. With leukaemia, we are looking at 90 per cent cure.
What are your hopes for the future?
In terms of research, I hope for newer treatments that I can bring to more patients, especially those who fail to respond to conventional therapy. I also hope that society will become more open to people with chronic illnesses. There is still a certain level of discrimination against people with chronic illness, even cancer. Children who have brain cancer can't move like other kids. Because of their cancer or the treatment, the child may have learning difficulties or even have behavioural disorders. So, I wish society would treat its disabled children in a more tolerant way. If you give them a chance, they can shine like other kids. They just need more attention and special allowances.
What do you wish people would be more aware of with regard to childhood cancers?
I have a strong appeal to the general public, especially people who are friends and relatives of families with cancer children: please do not act as an adviser and add to their suffering. Don't blame the parents when a child gets cancer. Even though a cancer happens early in life, it does not mean it is inherited. It does not mean there is something wrong with the pregnancy. Despite decades of research, doctors and scientists are still not sure how childhood cancers arise. Don't offer health supplements, vitamins, anti-cancer recipes and extracts. I have never seen anything that works in real life. Sadly, some patients turned away from chemotherapy and went for such remedies and they all went to the same ending. Don't spread hearsay, misconceptions or fake news. One common false concept is, if one deprives the cancer of sugar, the cancer will die. The other common fake theory is that milk and dairy products will promote cancer growth. I have seen how children suffer when they are denied of sugar and dairy products. Without proper nutrition, they tend to fail in their treatment.
As a doctor, how do you handle your work-life balance?
I work a seven-day week. I have a very good work-life balance; seeing the sick get well is just part of my life. Four of my previous patients are now doctors. Two are still in medical school. Others have got married and have children. I am seriously considering teaching contraception to my patients in the near future.
On a lighter note, you've lived in Singapore for 11 years, but because you are from Hong Kong, you must be an expert on Cantonese dim sum. Where do you recommend people go to for good dim sum in Singapore?
There are so many choices in Singapore. However, when I want to take guests out, I go to places like Tung Lok, Imperial Treasure or Lei Garden.
Written by Jimmy Yap