The type of treatment for patients with HCC will depend on its stage (that is, its size and whether it has spread beyond its original site) and the patient's general health. The main treatments used are surgery, tumour ablation, chemotherapy, targeted cancer therapy and radiotherapy.
Surgery
Surgery is potentially curative and is therefore the treatment of choice for patients with early stage HCC. If only certain parts of the liver are affected by cancer and the rest of the liver is healthy, then surgery may be possible to remove the affected part or parts. This type of surgery is called a liver resection. Another form of surgery is a liver transplant. This involves the removal of the entire liver and replacement with a healthy donated liver. Such a major operation maybe performed when the cancer is in the liver only and a donated liver is available. If surgery is not possible, then other treatments may be offered to help control the cancer, thereby reducing symptoms and improving quality of life.
Tumour Ablation
Tumour ablation aims to destroy primary liver cancer cells using either heat (radio frequency ablation; RFA) or alcohol (percutaneous ethanol injection; PEI). This procedure is usually done in the scanning department so that ultrasound or computerised tomography (CT) can help the doctor to guide a needle through the skin and into the cancer within the liver. A local anaesthetic will be given. RFA treatment uses laser light or radio waves passed through the needle to destroy cancer cells by heating them to a very high temperature. PEI treatment uses alcohol injected through the needle into the cancer to destroy the cancer cells. Tumour ablation may sometimes be repeated if the tumour grows again.
Chemotherapy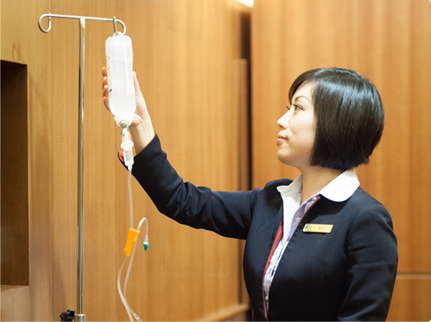 Chemotherapy is the use of anti-cancer drugs to destroy cancer cells or stop them from dividing. It can help to control symptoms by shrinking the cancer and slowing its progression. Chemotherapy drugs are usually given as injections into the vein (intravenously), although they can sometimes be given as tablets.
Chemotherapy may also be administered as part of a treatment called chemoembolisation. Chemoembolisation involves the injection of chemotherapy drugs directly into the cancer in the liver, together with a gel or tiny plastic beads to block blood flow to the cancer (embolisation).
Not everyone is suitable for chemotherapy as it can only be given if the liver function is good enough.
An important part of the immune system is the ability to recognise foreign from normal cells. Immunotherapy isa relatively new form of therapy where patients receive a medication targeted at a receptor called the Program death protein 1(PD1) or programmed death ligand 1(PD- L1). These are known as checkpoint inhibitors. These drugs stimulate the immune cells called T lymphocytes to attack the cancer cells. A couple of immunotherapy drugs (both PD1 inhibitors) have been shown to be useful in liver cancer and more clinical trials are underway.
Targeted Cancer Therapy
Targeted cancer therapy uses drugs or other substances that block the growth and spread of cancer by interfering with specific molecules involved in cancer growth and progression. There are a few targeted drugs available to treat liver cancer. These drugs targets cancers by stopping them from growing their own blood vessels. As cancer cells need a blood supply to bring nutrients and oxygen, this drug may therefore limit the cancer's ability to develop. Indeed, these drugs has been demonstrated in large clinical studies to prolong survival in patients with advanced HCC, compared with supportive care alone.
Radiotherapy
Radiotherapy uses high-energy rays to destroy cancer cells or keep them from growing. External radiotherapy uses a machine outside the body the deliver radiation towards the cancer. Such treatment is not often used to treat HCC because the liver cannot take very high doses of radiation. It may however be used to relieve pain, for example, in patients whose cancer has spread to the bone. Alternatively, internal radiation uses a radioactive substance delivered selectively to the cancer via a major blood vessel that carries blood to the liver (hepatic artery).