Colorectal Cancer: Stories of Hope - Overcoming the Obstacles Ahead
---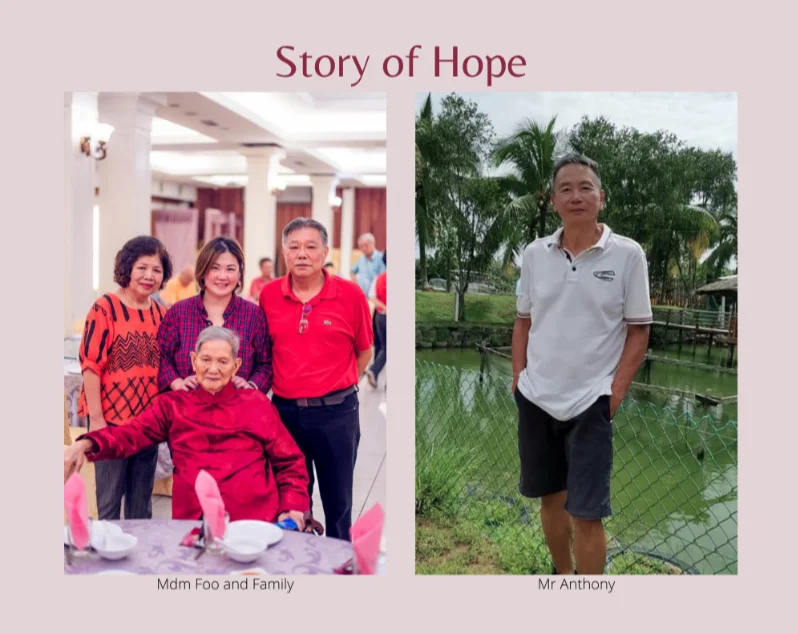 The lives of two retirees who just began their golden years took a big turn when they were both diagnosed with colorectal cancer. Fortunately, the unexpected help they received throughout their battles went a long way in helping them journey through new challenges.
FAMILY IS MY STRONGEST SUPPORT
Madam Foo's Story
From her appearance, one cannot tell that Madam Foo had experienced cancer.
The senior was diagnosed with colorectal cancer in 2012, after she experienced extreme exhaustion and noticed unusual rectal discharge from her anus.
"My body showed no signs of discomfort or symptoms," recalled Madam Foo. "Initially I thought it was related to female health concerns, so I went to see a gynaecologist."
When Madam Foo informed her family about her condition, her daughter arranged for her to do a preliminary examination. After running several tests, she was diagnosed with Stage 4 colorectal cancer.
"My mind went completely blank and I did not know what to do," shared Madam Foo.
After getting a better understanding of Madam Foo's condition, Madam Foo's family set out to look for more information and research on where she could find medical support. After getting a recommendation from her cousin to seek treatment in Singapore, Madam Foo decided to go there and seek treatment.
In Singapore, her oncologist advised her to begin with chemotherapy to shrink the tumour, followed by surgery to remove the tumour and radiotherapy to kill the remaining cancer cells. Despite her initial fears, Madam Foo's treatment procedure went smoothly, with minimal side effects.
Her condition began to stabilise soon after completing the planned treatment of chemotherapy followed by surgery and she remained well.
However, during a routine follow-up in 2017, Madam Foo discovered she had a new 7 cm size tumour on her liver. After overcoming her initial shock from the news of her recurrence, she decided to follow her oncologist's advice and underwent surgery followed by chemotherapy for 6 months on her liver recurrence.
Today, after a 10-year battle with cancer, Madam Foo is finally cancer free. Through her long and arduous journey at a prime age in life, she is most grateful to her loved ones for being there for her.
"Family is my strongest support; my family, relatives and friends were always by my side through these tough times," Madam Foo said. "I had no reason to give up, but with their encouragement, I gained even more confidence to continue overcoming the obstacles ahead."
Colorectal cancer is the most common cancer among men and second most common cancer among women in Singapore, says Dr Foo Kian Fong, Senior Consultant, Medical Oncology. Also known as colon cancer or large intestine cancer, the disease is one of the top three causes of cancer-related deaths in Singapore.
Like many cancers, colorectal cancer does not usually produce symptoms in early stages of the disease. However, screening (e.g. colonoscopy or faecal occult blood tests (FOBT)) and early detection can increase the likelihood of treating the cancer effectively.
THE IMPORTANCE OF HEALTHY LIVING
Mr Anthony's Story
Mr Anthony discovered his disease 5 years ago when he was experiencing constipation problems. He went to seek help for his symptoms, and underwent a colonoscopy to evaluate his condition. From his results, he was confirmed to have Stage 3 colorectal cancer.
"I probably would still be binge drinking and smoking at a never-ending party if not for cancer," said the senior, who kept an irregular lifestyle with excessive smoking and drinking prior to discovering his condition.
Determined to seek quality medical treatment for his disease, Mr Anthony searched all over Johor Bahru and even considered travelling all the way to Guangzhou, China for medical care.
One fine day, Mr Anthony received a call from the Vice President of a hospital in China, thanks to a friend. The Vice President advised him to consider getting treated in Singapore. After deep consideration, Mr Anthony consulted his family doctor, who introduced him to Madam Foo, who was also receiving cancer treatment in Singapore. After connecting with Madam Foo and learning that her treatment was going well, Mr Anthony decided seek treatment in Singapore. He underwent surgery. In Singapore, Mr Anthony was treated with 28 sessions of radiotherapy with chemotherapy, followed by chemotherapy alone. The first course of treatment went well, except for some inflammation on the large intestine during his last 7 rounds of treatment, which caused slight pain and discomfort. The remaining 6 rounds of chemotherapy went well without any severe side effects.
Today, he is a cancer survivor and continues to gain courage and strength with every follow-up appointment he goes for. He has also learnt to appreciate his health better, and let go of his bad habits and lead a healthier lifestyle.
"Ironically, cancer has changed my life," Mr Anthony laughed. "I have regained my health. I feel like I've been brought back to life! It is really a blessing in disguise."