Oncology Nurse Story: Finding a True Calling
---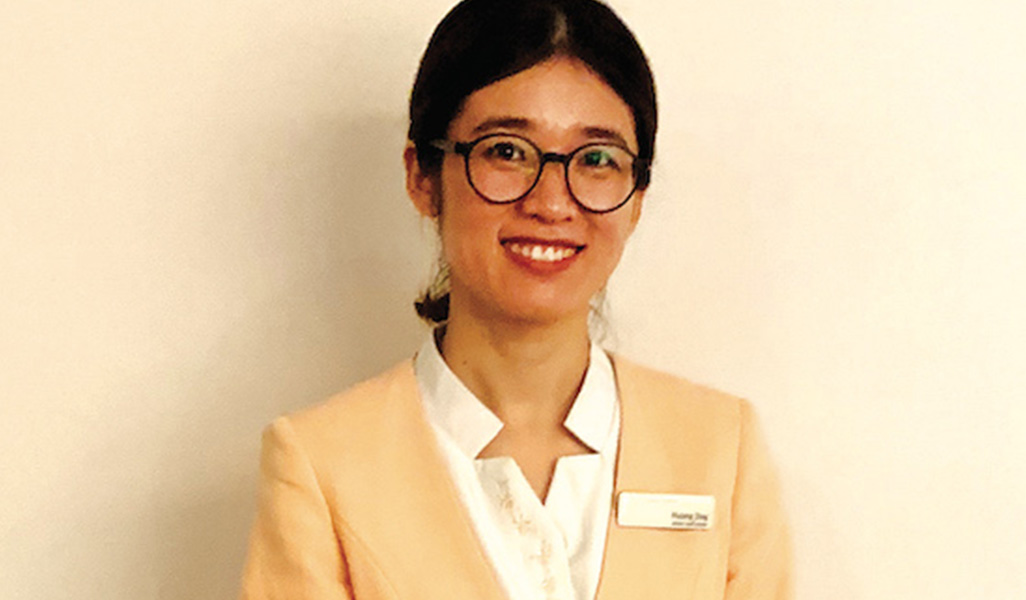 Finding a true calling
Huang Jing had not intended to be a nurse, but seeing how she could help patients changed her mind.
Nursing was not Ms Huang Jing's first choice for a career.
In fact, she had never even considered it – until the day the results of her university entrance examination in China came out and shattered her dream of becoming an accountant.
She needed to rethink her life choices, and quickly.
Her uncle suggested she become a nurse but her own parents were skeptical. "At home, my parents always pampered me," Ms Huang, now 33, said. "My father asked me if I was sure I could be a nurse because I would have to cut patients' nails, feed them and clean them."
But faced with only a few choices, Ms Huang chose nursing. "I went in with the mentality that after I graduated, I could still go and work in other areas apart from nursing."
But her experience during her course totally changed her attitude towards the profession. In her final year of studies, where she did attachments in a general hospital in her home town of Wuhan in Hubei Province, Ms Huang was certain she had found her calling.
"I remember thinking that what I was doing was something really good. I could see the positive impact I had on people's lives," she said.
Ms Huang recalls an elderly couple, where the wife came to visit her sick husband every day, without fail. She would spend all day by his side, read to him and take care of him. "The love between them really touched me a lot," she said.
After working for four years in the endocrinology ward in a Wuhan hospital, where she handled mainly diabetic patients, Ms Huang decided to apply for a job at Parkway Pantai in Singapore to gain exposure in a country which was more advanced medically.
She was among the first batch of medical staff who started in Mount Elizabeth Novena Hospital when it opened in May 2012.
Starting out as an inpatient nurse in a general ward, Ms Huang was nominated to pursue further studies in 2014. Initially thinking of doing her Advanced Diploma in Nursing (Medical-Surgical), Ms Huang decided to specialise in oncology instead, as her supervisor told her there was more demand in this field.
Ms Huang had personal reasons for picking oncology as well. Her grandfather died from cancer just before she left to work in Singapore.
"My whole family didn't know how to cope and couldn't accept the truth. We didn't know how to deal with the emotions and questions arising from this ordeal like 'Why it has to be him', 'Why he left us in such a short period' and 'Why the cancer couldn't be detected earlier'."
After completing her eight-month course at Nanyang Polytechnic in May 2016, she returned to Mount Elizabeth Novena Hospital and worked in the haematology ward before moving to radiation oncology at the start of last year.
Her daily tasks now include doing basic health checks on patients before they see a radiation oncologist, assisting patients to prepare them for radiation therapy under a doctor's instruction, and performing other nursing care duties related to radiation therapy.
Patients who come for radiation therapy are mostly mobile, said Ms Huang, and that gives her more time to talk to them and address their concerns. "They can still walk and are quite independent, but mentally, they are suffering, so it's good that I can spend more time talking to them to give them hope and help them cope."
However, she has also seen her fair share of patients losing their battle with cancer. When asked about how she copes, Ms Huang said: "I do feel very sad, but it also teaches me to cherish my loved ones and every day that I have."
"I also try to influence people around me to be grateful for what they have. Some people complain about a lot of things, but they don't realise that there are people who don't even have tomorrow to look forward to."
Ms Huang had come across quite a few younger patients as well and seemed to bond especially well with them. "There was one woman who was around my age and she remembered my name after the first time I introduced myself," she said.
When she heard that the patient had been warded, she would visit her in her own time. And when the patient was about to pass away, her mother called Ms Huang to see her before she died.
Being able to stay positive helps her in her work – not just to bring positivity to her patients but also to herself. "Instead of living in sadness, I try to live and breathe happiness every day," she said.
Written by Ben Tan