Oncology Nurse Story - Caring for others: A lifelong dream
---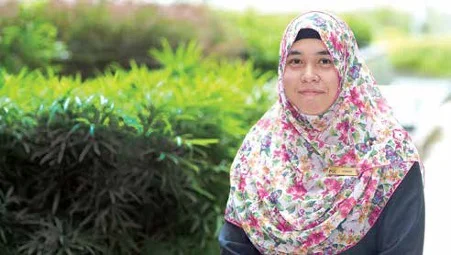 Caring for others: A lifelong dream
Working as a nurse helps Nurul Ashirin Badruddin put life in perspective, she says.
Nurul Ashirin Badruddin has always wanted to help people with cancer.
"I had a lot of cousins who had cancer; two cousins had leukaemia and one had brain cancer," says the 34-year-old senior staff nurse. "When I was young, I did a lot of hospital visits."
She initially wanted to be a pharmacist but her grades were not good enough so she joined Nanyang Polytechnic to study nursing instead. She graduated 14 years ago and has been working as an oncology nurse ever since.
Although nursing was not her first option, she has never regretted the choice.
She worked in a restructured hospital in Singapore before moving to Parkway Cancer Centre in 2014. Today, she works with Dr Lim ZiYi, an oncologist specialising in haematology. As a result, most of Nurul's work now involves haematology cases and bone marrow transplants.
For Nurul, a typical day starts at 8.30 am when she follows Dr Lim on his morning rounds in the wards at Mount Elizabeth Novena Hospital.
"We review patients and medications together." She then passes on the new instructions to the nursing staff at the hospital. "I also speak to patients to learn if they have special needs such as requiring the services of a dietitian or counsellor," she says.
After doing the rounds, she goes to Dr Lim's clinic at Mount Elizabeth Novena Hospital. There, she helps to take blood, assists in removing bone marrow for investigation, changes the dressing for patients, or helps them with chemotherapy infusions or drip infusions.
Nurul loves her job. "I don't know what I would do other than nursing."
She says that her job as a nurse helps to put life in a different perspective. "I interact with patients, I hear what they are going through, and many times, I feel like there are many lessons I can learn from them, like not to complain too much because here are people who do not know if they will live to see tomorrow."
Working in oncology has its challenges, of course. "I used to work in children's oncology for 11 years," says the mother of one. "Every time there was a death, I would go home and cry. That was very tough."
Although she is no longer in paediatric oncology, her job is still tough. "With adults, it is not as difficult, but still it is hard. I find myself going home, cry a little bit, and pray for them," she says.
"I never get used to seeing patients die. It is always quite an emotional thing for me. They can be somebody's wife, somebody's child. I always feel sad."
It is particularly hard because nurses tend to spend time with patients and often develop a close relationship. "We talk, we bond, we get to know them better."
One patient who left an indelible mark on her was a woman with leukaemia. Both Nurul and the woman were about the same age so they had a lot in common. "I would consider her more a friend than a patient," she recalls.
The woman had a very resistant, very aggressive form of leukaemia. "I had never seen anything like this before," she says.
What left an impression on Nurul was that the woman never gave up and always kept her spirits up. "I would tell her, 'I am sorry, your results are not very good'. She would say: 'It's OK. Is there anything else we can do?'"
"She would discuss about her family and her work but she never talked very much about her cancer. She was always so joyful. She was battling cancer every day, but she was always smiling."
The patient was memorable because even while she was battling her cancer, she was always thinking about others. "She was polite and kind and was considerate to other people. There were days when we (the nurses) did not have time for lunch, and she would go to get lunch for me. Or she would buy snacks for the nurses."
When she passed away in September 2015, Nurul was devastated. "Her father told me, 'You did everything you could.'"
It took a few months for Nurul to recover from the patient's death. "I had to talk to a friend," she recalls.
Despite this experience, she says that she has never thought of hardening herself emotionally. "I don't want to become numb to seeing people die," she says.
Apart from dealing with patients who have passed on, another challenge in her job is giving them bad news. She says that when it comes to that stage, she tells patients: "We are all going to die, but how and when, I don't know. But until the time we go, we have to fight for whatever moments we have."
Her advice to those patients is to make the most of the remaining time they have. "Go eat your favourite foods and do the things you have always wanted to do."
One piece of advice she always gives out is a simple but important one. "I always tell them: 'Tell your family you love them and thank them for taking care of you.'"
Written by Jimmy Yap