Hear from a Breast Cancer Survivor: "Listen to your body"
---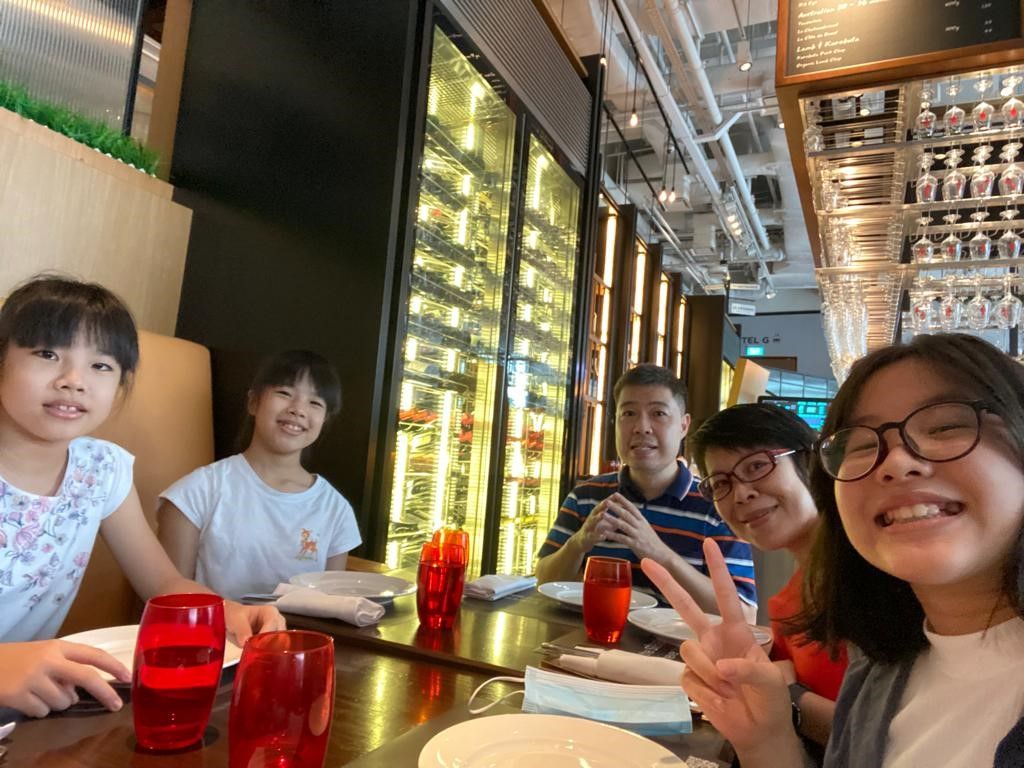 Learn how a breast cancer survivor stayed positive and survived her first health scare with courage, determination, and an effective treatment plan
When Lay Peng felt a lump on her right breast in mid-2019, she brushed it off, thinking that it was due to hormonal changes and would soon go away. However, she became worried when the lump remained after six months.
After completing an ultrasound scan and mammogram at her next annual health screening, she was advised to seek medical attention. "I was concerned about the lump but I did not think it was breast cancer," Lay Peng related. "I have no family history of cancer and I also have been healthy all along."
Lay Peng came to know of her breast cancer diagnosis through a biopsy and consultations with a Breast Surgeon. When the news of her breast cancer broke, her mind immediately went blank. "I was worried for my family – my daughters, my husband and my elderly folk," Lay Peng recalled. "I came to realise the fragility of life."
Understanding breast cancer and undergoing treatment
Breast cancer is a type of cancer arising from the milk glands of the breast, described Dr Tan Yah Yuen, Breast Surgeon at Solis Breast Care & Surgery Centre. There are a wide variety of symptoms for breast cancer, she explained, with the most common symptom being a painless breast lump. However, some patients manifest no signs nor symptoms at all. Hence, in the very early stages of breast cancer, findings can only be discovered via mammography. Ultrasound scans are also useful in complementing these screenings, while 3D mammography is recommended for a more thorough examination of dense breast tissues.
Dr Wong Chiung Ing, Senior Consultant, Medical Oncologist at Parkway Cancer Centre, observed that the chance of cure is more than 95% for early-stage breast cancers that are confined in the breast. However, breast cancer is generally not curable if there is spread to other organs such as the liver, lungs, bones, or brain. Nonetheless, treatment options such as chemotherapy, radiation therapy, hormonal therapy, targeted therapy, and immunotherapy are available to improve survival rates and the quality of life.
"In determining the treatment regimen for each patient, we perform tests on cancer cells before tailoring the type of treatment," Dr Wong said, adding that the patient's general health and condition would also be taken into consideration. The treatment of breast cancer thus involves a multi-disciplinary team of doctors and specialists which includes surgeons, medical oncologists, radiation oncologists, and pathologists. Strong support is also needed from nurses and other health professionals such as physiotherapists, dieticians, and psychologists.
"With so many treatment options available, it is therefore very important for us to come together as a team to derive the most effective treatment plan for patients," Dr Wong shared.
In Lay Peng's case, her doctors had advised for her to receive neoadjuvant chemotherapy, or chemotherapy before surgery, as initial treatment for her cancer. The primary objective of neoadjuvant chemotherapy is to downstage the tumour which may allow less extensive surgery on the breast/axilla, and to reduce the risk of distant recurrence.
Despite her initial concerns, Lay Peng mustered the courage and determination to undergo treatment and get well. "I only have one life," she reflected. "Instead of asking why, I accepted reality and embarked on the recovery journey. While there were tough moments along the way, I think the focus on getting well is important for you to get going."
Feeling well and cancer-free
Lay Peng and her doctors' efforts paid off post-surgery in September 2020. The treatment had resulted in a complete pathological response at surgery, meaning that no cancer cells were detected from tissue samples after surgery. Besides surviving breast cancer, Lay Peng was also able to conserve her breast, and did not require mastectomy.
While treatment was manageable on the whole, Lay Peng revealed challenging moments such as hair loss, loss of appetite, nausea, and diarrhoea. Nonetheless, she remained grateful for the time and space to recover, as well as for the strong support from her doctors and nurses in Allied Health, as well as her family, friends and colleagues.
It is never too late to seek medical help, Dr Tan assured, though there is a lower risk of relapse if breast cancer is detected earlier. Today, just slightly more than 50% of women in Singapore undergo regular breast cancer screening. Yearly screenings are recommended for women who are 40 years of age and older, or earlier for women with a family history of breast or ovarian cancers. For postmenopausal women, screenings should be done at one- or two-yearly intervals, depending on their individual risk factors.
Most importantly, women should not put off their breast cancer screenings and should remain alert to bodily changes. "Listen to your body and trust your instincts," Lay Peng encouraged. "If you sense something wrong, it is best to get it verified."