Eating Well: Balancing the Highs & Lows of a Cancer Diet
---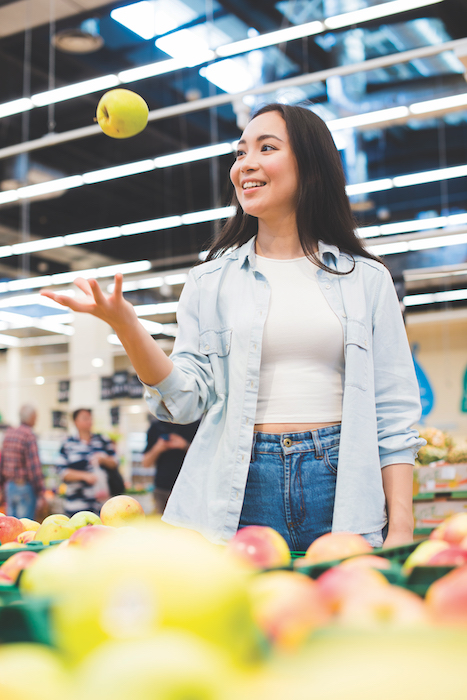 Balancing the Highs and Lows of a Cancer Diet
A dietitian can assist patients with cancer on personalising their diet and nutrition plan to their individual conditions. However, the level of health literacy on the importance of diet in cancer amongst patients with the disease is worryingly low. This HealthNews, we speak to Senior Dietitian Chloe Ong to understand better the role of a dietitian and the importance of a balanced diet for patients with cancer.
Tell us about your role. What happens in the day to day life of a dietitian at PCC?

The day-to-day life of a dietitian at PCC can be quite fluid. Sometimes, we start our days with patient appointments for diet counselling or follow ups with inpatients on their tolerance to tube feeding regimes or other oral supplements. Other times, we may be doing up paperwork or preparing materials for nutrition workshops.

In the middle of the day, we may also get calls from the clinic or hospital wards for on-the-spot patient referrals. We also conduct workshops for patients, and we ourselves attend talks and meetings to ensure we keep up-to-date on the latest nutrition information.

What kind of role does diet play in a patient's cancer journey?

It depends on each patient's condition. Some patients who experience side effects such as nausea, vomiting or diarrhea from treatment may need advice on the foods to avoid or the foods that can be tolerated better, and hence eating better overall. Others who experience symptoms from the medical condition itself, for example, patients with dysphagia, may need to be on a specific diet such as liquid or soft diet, and thus we advise the food or supplements to include, and how to achieve the nutritional requirements for each cancer patient.

For cancer patients, dietary advice that is appropriate for their condition is essential for them to get enough nutrition and energy on their cancer journey.

What are some difficulties you encounter with patients?

Sometimes, there may be patients who insist on sticking to their own diet and not take up any advice given to them. These tend to be patients without conditions that require a special diet, but still require a healthy balanced diet to fight cancer long-term.


Are there any patients whose change in diet have helped them in managing their cancer?

Patients with certain conditions who may need to avoid certain food items, or be aware of any 'food safety' issues, may benefit from taking note of such dietary advice.

We also encounter cancer patients who come in with common misunderstandings about diet and nutrition. For instance, omitting certain foods such as fat and meat, or eating 'too healthy' such as only boiled or steamed food that result in loss of appetite or severe weight loss. For this group of cancer patients, we would explain to them the concept of nutrition and the importance of all food groups for different body functions. Generally, when they adapt to a more balanced diet, we can usually see improvements to their weight as well as restored body strength after a while.

What advice would you give to patients looking to adopt a healthier lifestyle?

I think diet is just one part of living a healthy lifestyle. While eating a healthy balanced diet is important, physical activity and mental health are equally important as well. We need to always take some time to reexamine our life in any aspect where we have neglected ourselves in terms of self-care, and re-adjust it back to a good balance.

What is something you believe in?

For people who know me, I am just a 'normal' person who would eat almost everything and anything. When it comes to a healthy balanced diet, I believe that we just need to know our foods and how to balance the choices in our diet. I always believe that we need to eat healthily, yet be happy with what we eat as well.