Up Close & Personal with Dr Lee Yuh Shan
---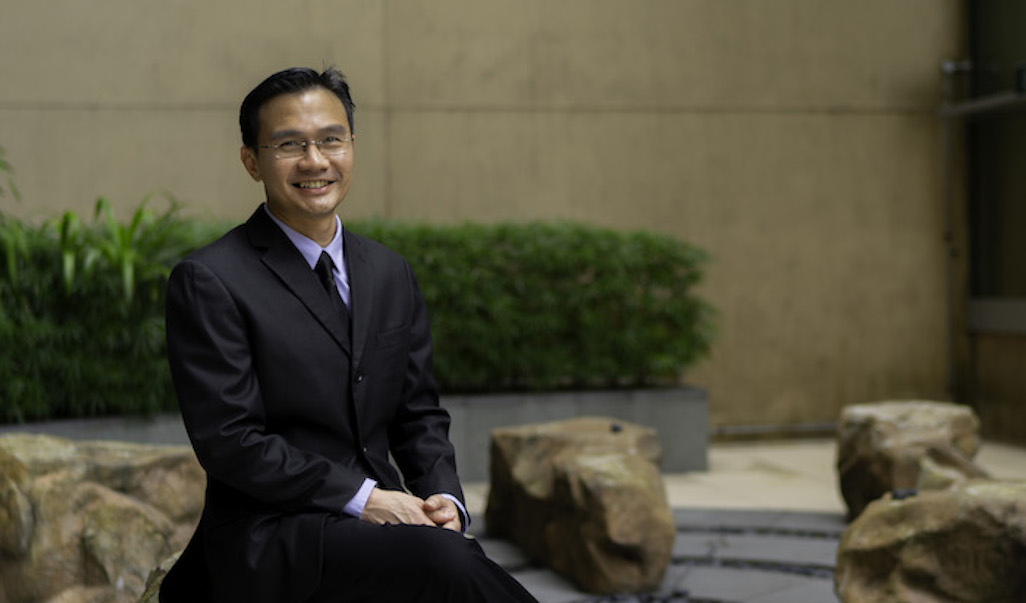 Drawn by hope
Dr Lee Yuh Shan describes his journey in the field of haematology and lymphoma.
Why did you choose to enter the field of medical oncology? And why the interest in haematology and lymphoma?
I never thought of becoming a doctor during my childhood. However, due to circumstances and opportunities, I was able to secure a place to study medicine at the University of Malaya.
In medical school, I had good mentors who were haematologists and that influenced my decision. During my training, I was often exposed to malignant haematology, mainly from referrals, inpatient care, and clinical trials. These triggered my interest in malignant lymphoma.
I can still remember vividly the first time I stepped into a paediatric haematology ward while I was in medical school. What I saw left an impression until now. It was not just a place for patients with cancer, but a place with hope where young children fought leukaemia with support from their families and doctors. Their parents stayed with them and cared for them, and the doctors were dedicated to caring for them throughout their cancer journey.
Looking back, would you have gone into another field?
I am happy with my decision. The rapid development in malignant haematology is exciting. Although this is a challenging field, the reward of seeing your patients recover from their disease with your treatment is worth all the effort.
What were you doing before you joined Parkway Cancer Centre (PCC)?
I joined Singapore General Hospital's department of haematology in 2008 and was there until March 2019.
When I started as a trainee, my supervisor, Dr Ng Heng Joo, encouraged me to get involved in clinical trials. Fortunately, that was the period when clinical trials in haematology by pharmaceutical companies were booming. I had opportunities to participate as a co-investigator in clinical trials ranging from haemostasis to malignant haematology, such as lymphoma and myeloma. This helped to build up my interest in clinical trials and encouraged me to initiate clinical trials with my colleagues.
It's inevitable that doctors lose some patients along the way. What is your experience, and how do you cope?
It's never easy. I always believe in practising what is right and best for patients, based on the latest available evidence from research. I always advise them based on such evidence and my personal experience in treating similar conditions.
I always give my patients my best care, either in treating them or in relieving their discomfort emotionally or physically. I believe that giving my best effort give them their best chance in the treatment of their disease.
In fact, I can still remember my first leukaemic patient, Mr Tiong. I did my best treating him under guidance (as I was still a young doctor then), and he achieved good remission after initial treatment. Unfortunately, his disease relapsed about four months after completion of treatment. The subsequent treatment could not control his disease as we had very few new treatments then. He passed away a few months after his disease relapsed. I was sad for a while, but also learnt when to let patients go with dignity. It also made me more determined to improve the survival of patients with malignant haematology.
Apart from Mr Tiong, were there any other patients who left a deep impression on you?
I had a young patient with very aggressive lymphoma, with whom I managed to get the disease under control. She underwent stem cell transplant, but unfortunately, developed a rare transplant-related complication. She was very sad and wanted to give up. I told her to hang on and that we would do our best for her and her family. But I also promised her that if further treatment was futile, I would not prolong her suffering. She did not respond much to treatment, and after discussion with her family, we did not escalate her treatment and she passed on.
Her husband sent me and the ward a big card with a family photo of her with him and their baby, thanking us for taking care of her. Regardless of the outcome, we had a good fight against her lymphoma, together with the patient and her family.
There was another patient whose disease was very resistant to treatment. I tried many types of treatments, the final one of which was checkpoint inhibitor, a type of therapy which enhanced his own immunity to kill cancer cells. I told him and his family that things were not looking good and they must be prepared. They were religious people and prayed with their church group for a miracle. I was surprised when the treatment actually controlled his disease when I was about to give up. I believe that support and religion always help patients when hope seems to be fading away.
I also had a young patient with Hodgkin's lymphoma who was a real fighter. She was diagnosed when she was preparing for her O-Level exams. While I was treating her, she insisted on continuing and completing her exams. I wrote to her school to inform them about her chemotherapy, and they allowed her to take the exams. I even adjusted my schedule so that she could receive her treatment after her exams. She did well despite having to undergo treatment and miss classes. She is now studying in a polytechnic and is looking forward to continuing her studies.
I appreciate the journey patients have taken with me during one of the most challenging periods in their lives. I always appreciate their trust in me. Each patient has left a different mark on me that has influenced my work.
What does your typical day at PCC look like?
My day starts around 8am when I see my patients who are admitted. After that, I will try to catch up with some colleagues during breakfast and get to know more of them as I am new in private practice. Following that, I will start my outpatient clinic, do some paperwork, or answer email. I will also follow up on patients' results and update them.
How do you strike a balance between work and family? What do you do to relax?
I have two young children and I like to spend time with them after work and during weekends. We always go out for outdoor activities as I want them to be more interested in nature than in electronic gadgets.
I go running to keep myself in shape. I enjoy running as it gives me a chance to think about issues at work as well as to de-stress. I have completed many half-marathons, and I did this run called "Batman v Superman" with my son a few years ago. It was an enjoyable time of bonding. Running is simple and relaxing, and you only need a pair of shoes. It helps to calm my mind and keeps me healthy.
What are your hopes for cancer treatment?
I hope more targeted treatments for blood cancer will be available in future, as I believe it will make treatment more fulfilling with less side effects.
I also hope there will be treatment available for older or less-fit patients. And I look forward to technical advances in the monitoring of low residual disease, where early intervention is possible before the disease relapses fully.
What would you like to tell people about blood cancers?
I would like to assure them that blood cancers are highly treatable, and there are many new targeted therapies available these days.