Redefining CanHOPE
---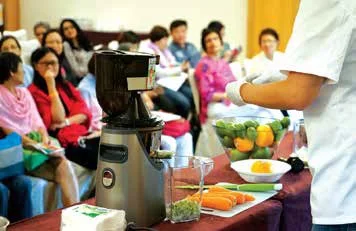 CanHOPE representatives gathered at a regional meeting to discuss how to improve their standard of care for patients.
To ensure that patients coming to Parkway Cancer Centre (PCC) from all over the world receive not just quality care but seamlessly coordinated care that is delivered holistically, PCC set up CanHOPE offices across the region so that patients, no matter where they may be, can get support during and after their treatment and never have to journey alone. Today, CanHOPE has built a global presence in nearly 20 major cities.
And while its efforts have already proved invaluable to many patients, CanHOPE is constantly improving its service and looking for ways to provide patients with even better cancer care.
It was for this purpose that representatives from CanHOPE offices in eight countries, gathered for a regional meeting in Singapore last November.
Held over two days, the meeting saw staff brainstorm and share ideas on how to strengthen alliances between the offices and share knowledge more efficiently.
In his address, Vice-President of Parkway Cancer Centre, Mr Yeo Kim Seck, asked staff to define CanHOPE in their own terms and many of them shared the various things they do to assist patients in their treatment journey. In fact, many of these offices are supporting patients in other ways, beyond medical care.
"We are redefining CanHOPE to include everyone beyond the medical and allied health professionals, that includes the administrative staff, operations staff and anyone who is a part of PCC or CanHOPE," Mr Yeo said. "CanHOPE journeys with patients to provide support and personalised care, working closely with the medical and allied health teams, to help patients and their caregivers to make effective and informed decisions in their treatment. In short, we strive to offer cancer care that is comprehensive, integrated and patient-focused.
He added: "Our goal is for every patient to have a friend in PCC."
During the sharing session that followed, representatives from Johor Bahru in Malaysia and Colombo in Sri Lanka spoke about how they picked up ideas from other regional offices and tailored them to suit the needs of their own patients.
For example, the Colombo office started a music therapy programme for patients in Sri Lanka, and found it so successful that there are now plans to implement it in other parts of the country.
PCC doctors also gave updates on cancer treatment to equip CanHOPE staff to provide better advice, support and care to their patients. Dr Patricia Kho, Senior Consultant, Medical Oncology, shared on improvements in immunotherapy that made cancer treatment much more efficient in recent years.
Dr Lee Kim Shang, Senior Consultant, Radiation Oncology, talked about the advantages of proton therapy, a form of radiation therapy that focuses on cancer cells while leaving healthy cells undamaged.
Dr Anselm Lee Chi-Wai, Senior Consultant, Paediatric Haematology and Oncology, meanwhile, highlighted new developments in the area of childhood cancers in his talk on paediatric haematology and blood diseases in children.
For the first time, staff from the various regional offices also took part in the annual CanHOPE Survivors Retreat, which enabled them to learn more about and experience firsthand the support programmes available to patients and caregivers.
These included talks and workshops on positive psychology, the science of juicing, traditional Chinese medicine in cancer care, and even laughter yoga.
The regional meeting also conducted team bonding activities and networking sessions that served to promote cohesion within the wider CanHOPE network.
Written by Charmaine Ng