15th Anniversary Special: Featuring CanHOPE reps around the region
---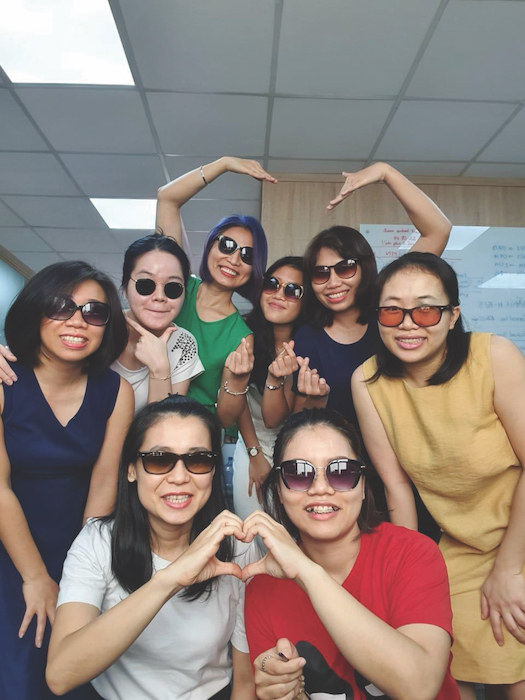 CanHOPE Feature - 15 Years of Service
Over the last 15 years, CanHOPE has extended their services by establishing offices in various countries within the region to support, empower and inspire cancer journeys with hope. In this 15th Anniversary special, we feature different CanHOPE reps around the region and learn about their contributions to their respective local communities.
Zahid (Dhaka, Bangladesh)
Cultural challenges
In Bangladesh, the cancer rate is rising every year and many people do not have access to treatment overseas. Furthermore, culturally there are some cancers which are not discussed openly such as breast cancer.
CanHOPE Dhaka has been a forerunner to promote early detections of these cancers and also arrange exclusive sessions for culturally stigmatised cancers so that patients feel comfortable
What I find rewarding...
The satisfaction from helping a cancer patient and seeing them return to their family and daily life. Their smile and the happiness of the family is the best reward in the world.
How you see CanHOPE evolving in the next 15 years
I hope CanHOPE will evolve into a bigger community with more resources, and become the first choice for cancer information and service centre for cancer patients in Bangladesh.
Risma (Bandung, Indonesia)
Cultural challenges
Most people here are not familiar with CanHOPE, but they know Parkway is a Singapore cancer healthcare provider, so we need to work hard to make sure people here know who we are.
As a foreign organisation, we also have to sustain good relationships with the government and local institutions such as IDI and Bandung Health Department so we can work together to raise cancer awareness locally.
What I find rewarding...
When I received the Top Public Event Award in 2019 for a public health talk organised by CanHOPE with the support of the chairman of Cancer Association in Bandung and YKI Bandung for World Cancer Day. Until today, we still have a good relationship.
How you see CanHOPE evolving in the next 15 years
I envision CanHOPE being a stronger organisation not only in the region, but elsewhere around the world as well.
Khanh Chi (Hanoi, Vietnam)
Cultural h4/h4&h5/h5>
Many Vietnamese patients do not know about us, nor are they familiar with seeking help from a community like CanHOPE. Information is often searched through the internet, which can be dangerous, so we hope to be better able to support patients with more reliable information in the future.
What I find rewarding...
The feeling of dedication to the community, giving support to those in need energises me everyday. We're always ready to do more.
How you see CanHOPE evolving in the next 15 years
Would it be too ambitious if I set the goal of CanHOPE to be present in 15 other countries in the next 15 years? I wish CanHOPE can grow stronger and support even more patients in future.
Dr Nghi (Ho Chi Minh City, Vietnam)
Cultural challenges
I've seen many cases where family members have tried to hide the disease from each other, only making the journey more difficult. We know that cancer is a difficult subject especially to those we consider family, but from our experiences, open communication will only make the journey easier.
What I find rewarding...
The most rewarding aspect for me is that my work can bring positive change and impact to someone's life. Battling cancer is a very vulnerable journey from deep-rooted emotions to happy endings. But we are and will be there every step of the way.
How you see CanHOPE evolving in the next 15 years
I believe that there will be a vast majority of interesting research into cancer. Though the journey won't be easy, I am optimistic about the future.
Angela & Desmond (West Malaysia)
Cultural challenges
No one knew about CanHOPE JB when we first started in 2007. Fortunately with our success stories, CanHOPE's reputation went viral by word of mouth, as a centre that assisted patients on their cancer journey.
What I find rewarding...
Seeing numerous patients recover from cancer treatment. It's good to see that patients can be happy again and even find that they feel better, stronger and more capable after their cancer journey.
How you see CanHOPE evolving in the next 15 years
Because of the COVID-19 crisis, CanHOPE started tele-consultation, allowing healthcare to become more accessible, efficient, and convenient for patients. We also foresee that CanHOPE will evolve with the increasing use of artificial intelligence (AI). However, human touch is still important and the roles and responsibilities of the CanHOPE support team is to help manage all these resources.
Connie (East Malaysia)
How CanHOPE has evolved in your city
Our aim at CanHOPE East Malaysia is to continue to support and help cancer patients remain focused and strong. It's all about communication skills and rapport building that makes a difference.
Cultural challenges
Some challenges we faced in our region are decision-making styles and strong competition.
What I find rewarding...
Helping patients improve their quality of life, providing encouragement to let them know they are not alone in the fight. Furthermore, seeing how these patients turned into CanFRiENDS to share their cancer journey to others.
How you see CanHOPE evolving in the next 15 years
Advancements in healthcare technology with an increased treatment cost will develop into a competitive market. Henceforth, we must be driven by better communication skills and greatest sharing of information and collaboration in building better referral networks.
Thao Phuong Nguyen (Hanoi, Vietnam)
How CanHOPE has evolved in your city
When CanHOPE first came to Hanoi, not many people knew about us. Today, we have CanHOPE counsellors present in so many different cities across the region. Cancer counsellors not only work with patients on physical care, but emotional care as well.
Cultural challenges
Our patients come from different parts of the country, with different concerns. We need to be able to listen to them and understand their problems from their point of view. Fortunately, with our large regional network, we are able to spread our efforts and help patients in nearby as well as far away cities.
What I find rewarding...
CanHOPE gives me a chance to meet professional doctors and patients at various points of their lives. As a cancer counsellor, I find it most rewarding when a patient has good response to treatment and can be cured.
How you see CanHOPE evolving in the next 15 years
We are always ready to help patients and share our knowledge with them. With our efforts, we hope to bring more information on cancer prevention, diagnosis, treatment and Hope to more patients and the general public.